A Forerunner in India's IT /ITeS Success Story
Uttar Pradesh is considered the IT hub of North India, contributing around 38% of the region's export of software and
services.
U.P is India's 6th largest IT exporter; in 2010-11, IT exports from the state clocked about INR 12000 crore.
Software Technology Parks at Noida, Lucknow, Kanpur and Allahabad.
Lucknow is ranked among the Top 10 cities in India for fastest job-creation and has emerged as a "Science City", with
numerous national level laboratories, engineering and management institutes.
Agra also has emerged as preferred investment location due to its world class infrastructure and proximity to IT hubs
e.g. Noida and Gurgaon.
Two EPIPs have been developed by UPSIDC – one at Gautam Buddh Nagar on 200 acre and other at Agra on 100 acre
l884 centres operational with 2Mbps bandwidth up to Block level under UPSWAN.
Each Department to earmark a minimum of 2% of its Plan budget for IT applications.
State Level Empowered Committee under the chairmanship of the Chief Secretary to oversee the development of I.T.
industry in the state.
U.P. software and other services exports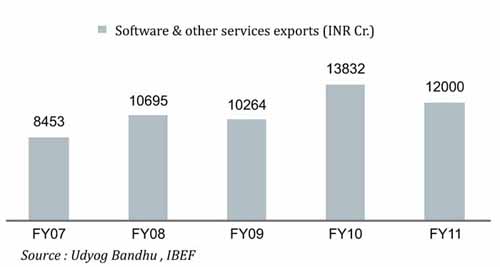 Share of U.P. software & other services export (2010-11)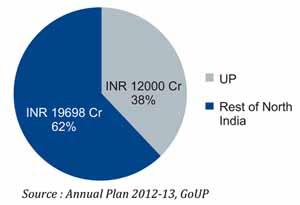 Noida and Greater Noida have emerged as major IT/ITeS Hubs
Noida and Greater Noida have earned recognition as major IT /ITeS destinations in the country with a number of Special Economic Zones and Software Technology Parks.
The region is home to many prestigious companies such as IBM, TCS, Adobe
International, HCL, Nasscom , Birlasoft, Wipro, Polaris, Cadence, Convergys, ST
Microelectronics, Moser Baer,Xansa etc.
Presence of several World-Class Educational Institutions and Highly Skilled Manpower
Uttar Pradesh has several world class institutions imparting IT and electronics education such as IIT Kanpur; IIM Lucknow; IIIT Allahabad; MNNIT Allahabad; IMT Ghaziabad; C-DAC Noida and IT-BHU.
36 universities, 3104 colleges,1500 ITIs/ITCs, 197 business schools and 320 engineering colleges.
2.8 lac B.Sc and 96000 engineering & technology students enrolled every year.
UP leads in availability of skilled manpower
3rd in terms of number of colleges in India
2nd in terms of number of ITIs/ITCs in India
3rd in terms of number of Business Schools in India
4th in terms of number of engineering colleges in India
3rd in terms of number of polytechnics in India
Enrolments in Higher Education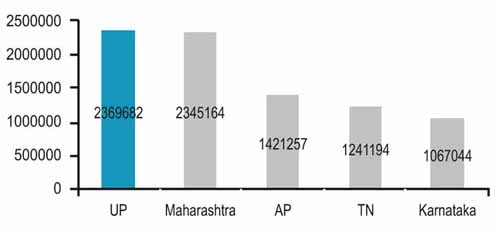 Enrolments in Bachelor of Science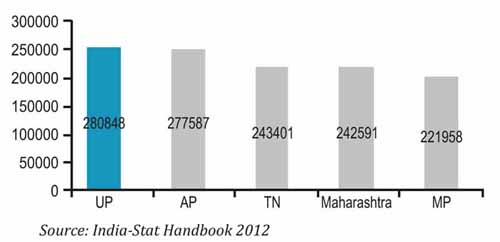 Infrastructure on Offer to Investors
Information Technology Park, Lucknow
To be built at an estimated cost of INR 285 crore, the IT park project in Lucknow is proposed to be developed on an area of
approximately 1.3 lac square metres. Lucknow Industrial Development Authority (LIDA) is the nodal agency for this project .The park
will be developed on the design-finance-build-operate model .
Export Promotion Industrial Parks
Agra
102 acre of land at cost of INR 21 crore to provide Industrial Infrastructure to export oriented units.
Most of the plots have been allotted and several units have started construction activities.
Greater Noida
At Gautam Buddh Nagar over 200 acre of land at a cost of INR 20 crore with infrastructure facilities at par with international standards. The Park has been assured high quality power with excellent backup services through a private sector provider.
4 units have started Production and exports. 11 units have started construction of factory building.
Information Technology City, Lucknow
The UP Government is planning a 100-acre 'IT City' , which would come up on Lucknow-Sultanpur highway.
The focus of economic transformation includes creation of a conducive business environment that helps to attract and promote trade, investment and entrepreneurship in the IT sector. It also aims to leverage the investment in IT to create an IT engine that will transform the other sectors in the greater economy of the state.
Conducive environment for business
Government of Uttar Pradesh will facilitate Business Community, IT/ITeS firms, entrepreneurs to do business and to invest in Uttar Pradesh.
Leverage the existing initiatives and nurture the development of content and applications to facilitate information exchange and accessibility of data, harmonize regulatory practices and IT standards.
Public Private Partnership (PPP)
The State shall leverage various PPP model like BOT(Build-operate-transfer), BOO(Build, own, operate), BOOT(Build, own, operate, transfer) etc for I.T. projects which will minimize the initial risks of introduction and subsequently the growth of an IT/ITeS project , thereby increasing the efficiency, optimal utilization of resources of the state and the private sector
Encouraging development of supporting infrastructure will be aimed towards IT/ITeS. The Government will encourage investments in PPP projects for bringing world-class schools, hospitals and other facilities which can complement the efforts for attracting investments in IT sector.
Single window clearance
A government agency to efficiently and smoothly handle statutory matters .The agency shall also be responsible for clearing roadblocks in a time bound manner.
People Engagement and Empowerment
State Government of Uttar Pradesh would focus on the enhancement of the quality of life of all the people of the state through affordable IT. This is especially true in areas with low standard of living.
Ensure affordable and seamless e-services, content and applications
The state Government shall identify relevant e-services to be developed.
Nurture an environment to facilitate the development of affordable e-services.
Promote e-services that can be adopted for local usage.
Provision of e-services would be made available through Common Service Centres and e-Suvidha Kendra's.
Government of Uttar Pradesh will facilitate time bound implementation of various MMP's(Mission Mode Projects) like e-Districts, CCTNS (Crime and Criminal Tracking Network and Systems) and projects of Panchayati Raj, Commercial taxes. Food & Civil Supplies and other departments.
Digitization of Government Information
All public domain information like official gazette notifications, Government Orders, acts, rules regulations, circulars, policies and programme documents would be digitized and made available for electronic access on the web in a phased and time bound manner.
Use of Hindi and Urdu
The State Government shall promote use of Hindi and Urdu along with English in IT to increase the outreach to the common man. For this purpose specific initiative will be taken for use of Devnagari/Urdu in Computers and developing Web Applications.
Cyber Security
Crimes and offences pertaining to confidentiality, integrity, data security and non disclosure of agreements shall be viewed and scrutinized as per law.
Government of UP would create awareness about online security.
Government of UP would forge joint collaboration with industry and other stakeholders for outreach campaign to promote awareness about cyber-crime.